Introduction for Guests!


Hotel Zetocha was rebuild and expanded in 1997. from being only restaurant, we are also able to offer You Hotel facilities, for a one Night stay or for a longer Holiday. Depending of what You wish. Our motto is: What You wish, we will provide for You. The Hotel is placed in the small village Hevlin, near the border to Austria in nice surroundings. Here it is possible to spend time with different activities and amusement, Such as Billiard, playing machines or go Fishing. Also possible is playing at the nearby tennis court. Or what about bicycle tour out the old border trail along Austria? We can also arrange a visit to a wine cellar when the Hotel are placed in an area with a large wine production. At our terrace stage we in the summer dancing entertainment with live music. Friday and Saturday our Discotheque is open from 8.00 P.M. to the last Guest. And there is entertainment of different Kinds, such as piquant program and others. And the music are always Hits from the Top Hits over the World and the staff providing You, are always ready to serve You. The Hotel are placed only 1200 m from the Austrian border (Hevlin / Laa a.d. Thaya) on the road form Brno to Vienna. At the border You will find a Shop-Center with duty-free goods. The Hotel are placed in an area from where You only have short distance to the City's Bratislava, Brno and Vienna. By car it takes 2 hours to Bratislava. Vienna You can reach within 1 hour by car and to Brno it only takes 40 minutes. And this is all in an area where some of history of Europe has taken place. At the Hotel we will always try to help You with your questions about activities in the Region of Cultural art and events. At the Hotel facilities You can have celebrations, education's, seminars and so on. And of course in the evening You can visit our Bar. If You have any specific wishes, just ask us, we are here for You! Our specialty is joy and satisfaction for our Guests.
We will be looking Forward to your visit.
Hotel Manager Jan Zetocha


The hotelcontain 19 double rooms and possibility of additional beds on most of rooms. Three of all rooms are with air-conditionings and luxurious equipments. In our hotel you can use hotel's exchange office.


Menu

Accommodation prices

Reservations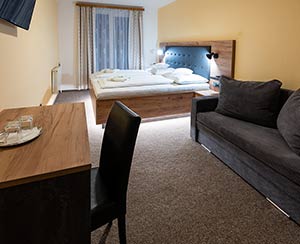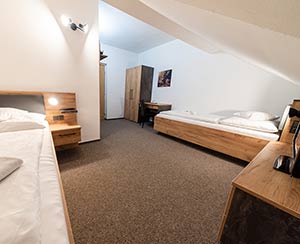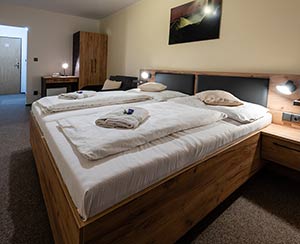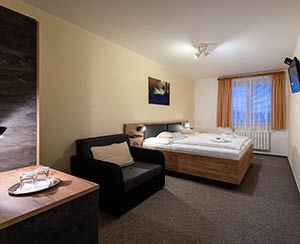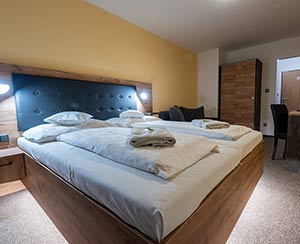 Chance of tours:
Austria - 200 m
Brno - 60 km
Bratislava - 125 km
Vranov - reservoir - 30 km
Pálava - protected territory - 20 km
Valtice - Town with castle - 45 km
Macocha - stalactite cave - 85 km
Lednice - Town with castle 45 km
Mikulov - Town with castle - 30 km
Contacts:

Hotel Zetocha
Jan Zetocha
Hevlín 53
67169 Hevlín


Email: hotel@hotelzetocha.cz


Telephone: +420 515 274 633
+420 515 274 233
+420 515 274 434


Equipments of rooms:
bathroom (shower bath, WC)
color television with satellite dish)

Restaurant
In Restaurant is 64 places, we offer possibility of stage bigger social actions, in summer on terrace with 24 places. From 11:00 to 22:00 hours we offer You choice from tradition Czech cuisine and other specialties. We have too wide offer of non-alcoholic and alcoholic drinks.
Opening hours of restaurant:
From Monday to Friday from 11:00 to 22:00 hours
Saturday from 11:00 to 22:00 hours
Sunday from 11:00 to 22:00 hours

Night club
Opening hours and capacity of bar:
Here is 70 places
open is in Friday and in Saturday, in other days, when our customers want
We open in 20.00 hours and closing time isn't determine and we follow by wishes our customers

Program of bar:
In Friday and in Saturday stage here discotheque with music - disco, dancing and oldies.
In Saturday after midnight is here piquant program.
Spaces of Night club you can use for:
corporate and other education
private and other celebration
Inn Formanka
Enjoyable place in stylish Inn Formanka, which is part of hotel Zetocha. Here is over 80 places and in Summer you can spend nice while on terrace. It is excellent place for dancing entertainment with live music( country, folk), which sweeten customers early evening.
Eating card:
Soup
Snack to drinks (small fish, speciality: utopenci, sheep's cheese)
Candies and salty pastry according to daily offer